How to find the Lei Thar Gone Guest House
It's quite simple, although the Lei Thar Gone Guest House doesn't sit on the main tourist track. There are direct buses to Yenangyaung from all key destinations such as Bagan, Yangon, Inle, Taungyi and Mandalay. We can buy tickets on your behalf, pick you up at the bus station or have you collected at the airport in Nyaung U (Bagan).
Should you need any assistance please phone the Guest House +95 (0)60 88 21620
From Yangon
Bus station: Aung Mingalar
Bus companies: Nanhtike Taw Win, Hteik Dan or Wei Phyo Aung
Getting to the bus station: by taxi, from downtown Yangon, approx. 1 ½ hrs., fare approx. 8'000MMK.
Departure: 6 pm, but it is advisable to be at the station 1 ½ hrs. earlier.
Fare: 8'500MMK (March 2015).
For more comfort we recommend booking two seats per person
Arrival: between 3.45 and 4.15 am.
Contact us for bookings or for a free pick up at the bus station.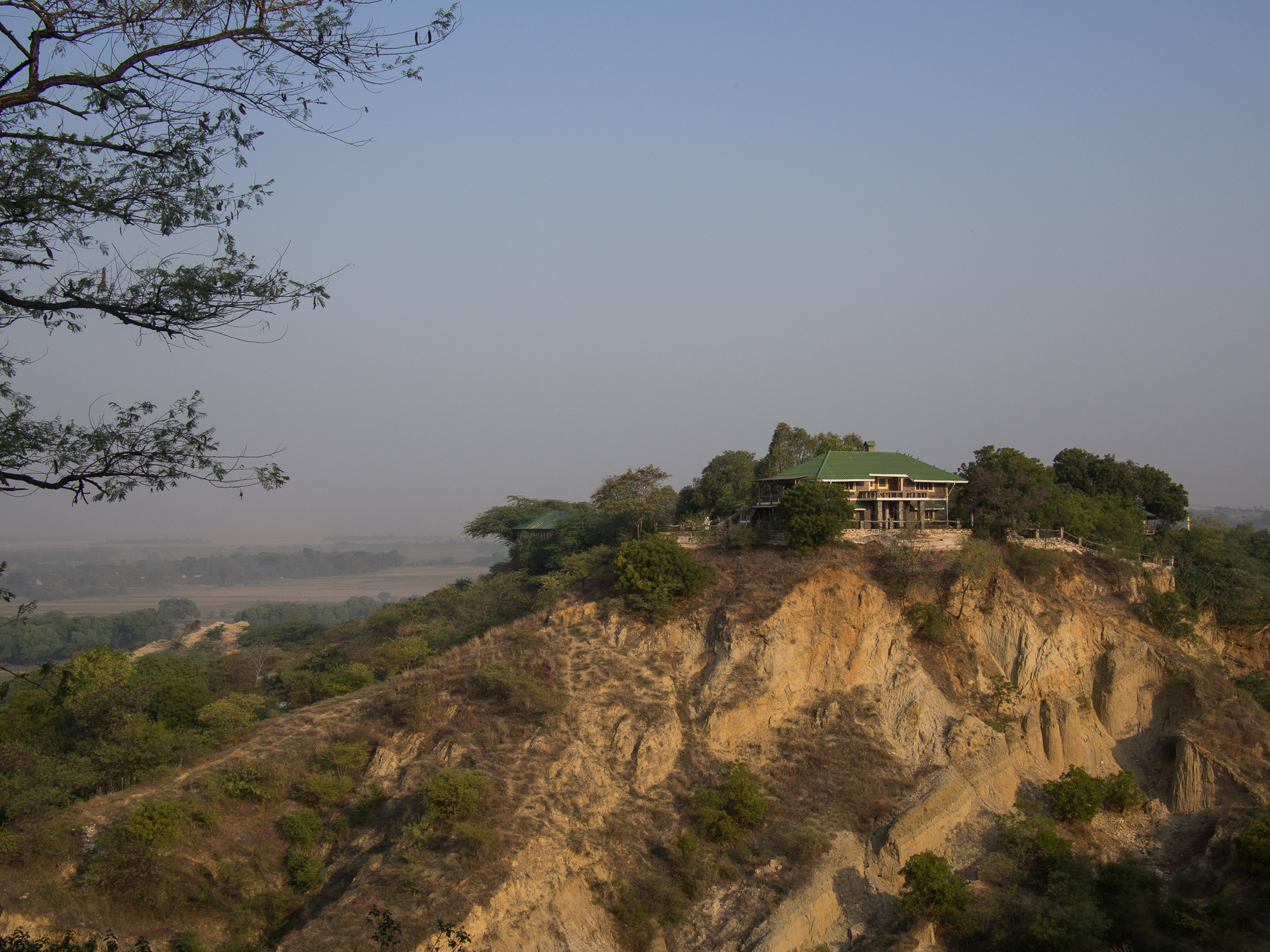 Your home away from home
From Mandalay
Bus station: Kwe Sae Kan
Bus company: Aung Ka Bar
There are multiple buses during the day, night buses at 6,7 and 8pm, all arriving in Yenangaung approximately 6 ½ hours later.
From Bagan
Nyaung-U (Bagan) is the closest airport to Yenangyaung. The 62 mile drive takes less than two hours. An airport pick-up can be arranged on request (one way fare approximately $60). From Bagan (Nyaung U) to Yenangyaung there are also several direct buses daily Contact us for further information or ask your Hotel to make the booking for you. Please show the staff the Myanmar text shown below as most people do not know Yenangyaung.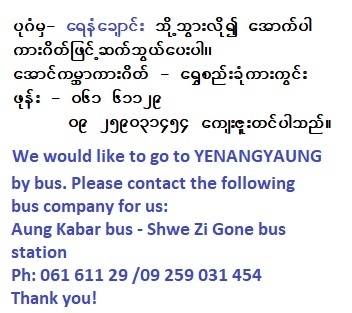 A little bit of history
Yenangyaung is located in the Dry Zone of West-Central Myanmar in the Magway Division, on the Irrawaddy River. For centuries the dominant industry of this area was petroleum – thus the name "Yenangyaung" which in Myanmar literally means "stream of oil". In recent years, oil activity has picked up again. One major foreign company has "successfully re-entered and recompleted several shut-in wells as oil producers." Local people, however, continue to eek out a meagre living as farmers – it is a very poor yet authentic area.